The CAB would like to congratulate our 2021 scholarship recipients.
Winners for 2021
2021 Fred McLeod Memorial Scholarship Winner Logan Polosky
Logan Potosky (Fred McLeod Memorial Scholarship)
John Carroll University
Logan Potosky is currently a junior at John Carroll University, pursuing a major in Communication, with a concentration in Digital Media, and a minor in Entrepreneurship, as he aspires to be a professional play-by-play sports broadcaster.
He is from Kirtland, Ohio, where he is in his second year of providing high school football play-by-play commentary for the Six-Time OHSAA State Champion Kirtland Hornets, his alma mater.
At John Carroll, Logan is now in his third year as an Undergraduate Assistant for the school's Sports Information Department, where he performs various duties, including providing play-by-play commentary, writing stories, and preparing game notes for sporting events.
Logan is also in his first year as Sports Director for the school's radio station, WJCU 88.7 FM. As Sports Director, he provides play-by-play commentary for John Carroll Blue Streaks Football, hosts the weekly John Carroll Football Preview Show, coordinates sporting event broadcasts for WJCU, and plans on providing play-by-play commentary for John Carroll Blue Streaks Basketball as well.
This year, as part of his duties for WJCU, he produced several game broadcasts for the Lake County Captains, the High-A affiliate of the Cleveland Indians. He is also currently a member of the Sportscasters Talent Agency of America.
Outside of broadcasting, Logan is an avid Cleveland sports fan and enjoys spending time with family and friends, watching sports, playing video games, and golfing.
---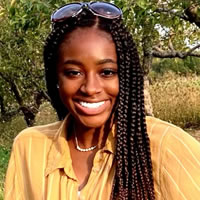 2021 Four Year Scholarship Winner Taylor Anthony
Taylor Anthony (4 Year Scholarship)
John Carroll University
Taylor Anthony is currently a junior at John Carroll University and she is majoring in Communication with a concentration in Digital Media and a minor in Spanish. On campus she works as an editor for The Carroll News, serves as vice president for the John Carroll TV club, and she is an intern for John Carroll's Center for Student Diversity and Inclusion. Additionally, Taylor is also a sprinter for the women's track and field team. She truly has a passion for journalism, public speaking and advocacy and hopes to one day integrate her communication and media skills to become a notable broadcast journalist and amplify the voices of others.
---
2021 Four Year Scholarship Winner Katherine Daugherty
Katherine Daugherty (4 Year Scholarship)
Malone University
Kate Daugherty is a junior Sport Management and Business Administration double major at Malone University in Canton, Ohio from Olmsted Falls. Her career goal is to become a Sports Information Director at the collegiate level or Media Relations Director at the professional level. She currently serves in three different roles for high school and college athletic coverage. She is the current Sports Information Intern at Malone University (since December of 2020), the Malone University women's basketball Team Manager (since August 2019), and the Gameday Coordinator, On-Site Producer/Engineer, Spotter at ACP Productions for OHSAA high school football radio broadcasts on WHK-AM 1420 and WCCR-AM 1260 (since October 2014). Kate is also the current Co-President of Malone University Sports Management Association (since August 2020) and a member of Malone University's Honors Program. In addition to this experience, Kate has experience working the 2019 MLB All-Star Game in Cleveland, the Pro Football Hall of Fame 2021 Enshrinement Festival, and Ohio High School Athletic Association Divisions 1-7 Football Championships (2019 and 2021).
---
2021 Two Year Scholarship Winner Sean Sarah
Sean Sarah (2 Year Scholarship)
Ohio Media School & Kent State
Sean Sarah is a voice-over talent and producer at ESPN 850 Cleveland and a proud graduate of the Ohio Media School and Kent State University. In a previous life, Sean spent 15 years in campaigns and elections and as a public relations officer for a national environmental nonprofit. You can find out more about Sean at seantsarah.wordpress.com.
---
Click here to view past scholarship winners.